"The little boy that India fell in love with"
This was the subheading of a newspaper on 24 December, 2012; a day after the the great man decided to hang his boots in the most popular format of the game.
The demigod of cricket, with more than Godlike perfection; a master of his own class; the superhero of many mere mortals, like me - certainly something more than human.
Those square cuts buzzing past point, those cover drives sailing through the outfields and those bowler back straight drives are only a few of a litany of his trademark shots.
Sachin is someone who knows the art of executing an innings with the precision of a surgeon's knife.
Add to it; his capability to play shots all across the ground, his determination to compete in the toughest of conditions, his openness to accept defeat and learn from each one of it, his ever growing appetite for runs, and his commitment to a million fans across the world.
Sachin has arguably been the best ODI batsmen the world has ever seen.
The guy has so many achievements under his belt that to find just one reason to follow him, and in some cases to even love him, is more difficult a job than getting him plumb off the pads in front of middle and leg off a ball that was a 'beauty'.
But more than anything else, I admire him for his dedication, hard-work and perseverance - An unmatched commitment to the game. Sachin as a school boy went on to play matches for his team back-to-back for 55 days! He would practice for 2 hours daily in addition to his games, only have dinner at night and sleep on the dining table itself, only to wake up as an improved batsman the next morning. Such was his devotion that he used to skip meals to play cricket and practise it to perfection. His mammoth partnerships with Vinod Kambli, his school pal, for Sharda Ashram Vidyamandir are themselves testimony to the greatness of the duo.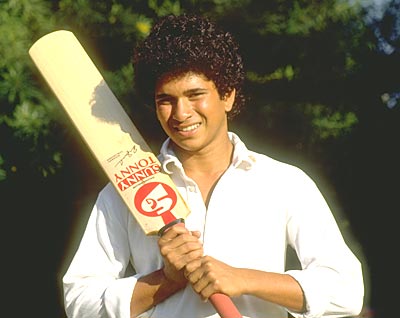 Young Sachin ready to destroy the bowling attack
But like they say:"No great man has ever tasted the sweetness of success, before hit on face by failure."
Sachin was out for a duck in his debut match against Pakistan in 1989.
At the tender age of 16 years and some days, may be the little boy got too intimidated and nervous to showcase his class and was out for a duck. But it didn't take him long, before he could show that he was truly a master class.Though his first ODI century came a little later than expected, he never looked back ever since then and went on to pile a huge total of runs in ODIs.
And then a streak of some scintillating performances followed.Centuries after centuries were scored against the top bowlers of the world as if it was a
child's play
. Soon Tendulkar was beatified as one of the greatest in world cricket already.
Sachin proves his mettle yet again - The 200 moment
In his path to excellence, Sachin had set such high standards for himself and for world cricket that it was almost impossible for him to look out for any cricketer, living or dead, as an inspiration or idol. The batting maestro had surpassed almost every major batting record ever created by any great batsmen.He competed against himself and raised the benchmark to gauge the greatness of the greats every time with some unprecedented, beautifully crafted knocks.
Sachin at the Captain Roopsingh stadium at Gwalior, which happens to be my hometown, scored an unbeaten double century in ODIs.A feat that was unachieved by any cricketer before.
I still remember a tweet when Virendar Sehwag scored a double century in ODIs soon after Sachin and recreated history.The tweet was an ultimate arrangement of words to hint the love and respect people have for Sachin
"Virendar Sehwag becomes the first man to score a double hundred in One Day International.The previous one was by 'God'."
Such was his greatness that people considered him no lesser than God Himself.
I have truly worshiped him as a child and even today.His class, dedication , commitment and the down to earth humility make him the greatest of all legends in world cricket.
However it was really sad to witness the way he was made to exit the ODI format of the game to which he had contributed so much.Probably no organization or cricket association was big enough for having the honor to honor the great man himself.
But truly it was the end of an era for cricket, and the cricket community felt orphan the day 'GOD' announced retirement.
The world loses its ODI Maestro, Take a bow, Sachin Tendulkar!!!